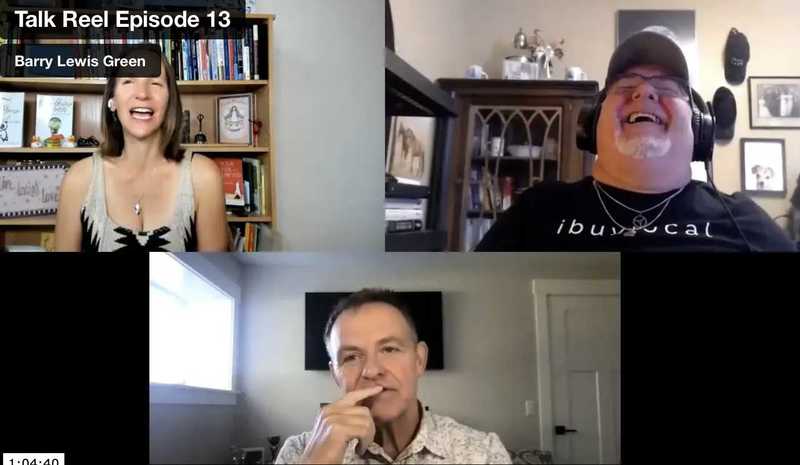 First of all, I love, love, love the joyous snapshot of my Talk Reel co-host Barry Lewis-Green (top right)! It makes me happy just looking at it!
Did you know that I co-host a monthly podcast called
Talk Reel (join here)
? Yep, it's true and you can find it wherever fine podcasts are sold (er, given away!).
It was a joy to welcome a 'believer in the power of gratitude' and a really cool guy, Steve Foran – founder of Gratitude at Work, to the fold. Now, I'm all over gratitude and have been for some time. In fact, I thought it was pretty hard to tell me something I didn't already know, but Steve taught me a lot! I hope you enjoy the whole show but here are some snippets that gave me pause for thought …
Gratitude – The feeling of being a recipient of something good, something you value, something that 'cost' someone else, something with no strings attached.
Complacency – We take things for granted until they are taken away. Yeah – thank you COVID for that reminder. What have you been complacent about?
Subtraction Exercise – What would you miss if it was taken away?
Sacrifice – What have others sacrificed for you?
Gratitude Muscle – What kind of habitual ritual for gratitude can you do to strengthen that muscle?
I asked Steve for his best idea to teach the concept of gratitude to my little Noah (3), and he suggested a 'benefit appraisal', which I have adapted …
Benefit Appraisal –
1) What did you enjoy today?
2) Who did that for you?
3) Why do you think they did that?
Hmmm, maybe this is good for us adults too!
I love watching Noah think through the answers to those questions!
I hope some of these ideas will work for you, the benefits of gratitude cannot be overstated. And if you have some ideas that work in your world, please share them!
Cheering for you, Steph , and other fun stuff.
PS – Enjoy the podcast!